Creating a Username in Chatango
At the bottom right hand corner of the chatroom click on the phrase "Set your name".  

The following screen will pop up: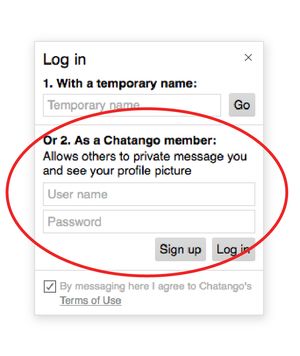 Choose option # 2 to create a username and password, or simply login with your credentials if you already have done so previously. That's it! Return to "
Album Night
" and enjoy the experience! 
---
FAQ:
Q.
Can I just use option #1 to create a temporary name?
A. Yes, you can. However, inevitably after about 30 minutes you will be disconnected and your temporary name will be lost. You will then be re-assigned an anonymous name. Although you will still be able to comment with your anonymous name, you will lose the continuity that you have established with your prior name.
Q.
Is there an affiliation between johnbanrock.com and chatango.com?
A. No. Johnbanrock.com uses chatango.com's embedded chatroom to enhance the user experience of "
Album Night
".  Chatango.com is a third party and has no affiliation with johnbanrock.com
Q.
If I register with chatango.com, do I need to upload a photo?
A. No you don't need a photo to use the service, but the option is there if you'd like to. 
---
Disclaimer:
Please note johnbanrock.com has no affiliation with chatango.com and therefore makes no guarantees of service or usability of the chatango.com site and chatrooms.  Please read the relevant documentation on chatango.com for more information.